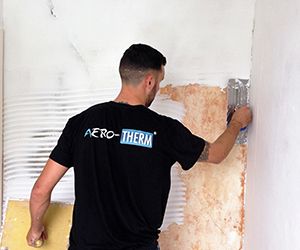 A quick, simple and effective internal insulation
The best way to insulate a house.
Improving the energy performance of solid brick or stone properties in the UK has until now been a slow and costly process due to the practical and disruptive requirements of conventional insulation methods.
AeroTherm takes a new approach to this and by incorporating advanced technologies into a lightweight paste, it has created a quick, simple and effective solution to provide the next generation of insulation. If you are redeveloping a property, undertaking renovation or building works or even just simply redecorating a room, AeroTherm can easily be applied to any wall or ceiling just before you are ready to paint. As the AeroTherm paste is only 1mm, it does not replace conventional multi-finish plaster, it simply provides an additional ultra-thin smooth white coating, which provides warm walls and offers an all round thermal comfort.  Insulating interior walls and ceilings has never been so easy.


finding a registered installer