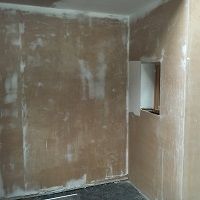 AeroTherm Installer Training Dates
AeroTherm is an exciting new product, which has the potential to provide many homeowners with an easy and simple solution to improve the energy efficiency and thermal comfort to their properties.
As AeroTherm is a relatively new introduction to the UK, which works in a different way to conventional insulation materials, it is important to fully understand how the product works and be able to explain the benefits its provides to potential customers. We are therefore inviting installers to attend training courses to gain a full product understanding and ensure that Aero-Therm is correctly applied with suitable equipment.
Plasterers One Stop Shop are official stockists of AeroTherm and are currently organising training courses for potential installers. These are available at AeroTherm Products Training Centre near Wakefield and also their own shop in Cheltenham. The training course will also soon be available at our new branch in Cornwall.
The course duration will be between 3-4 hours and consist of a product presentation followed by a practical demonstration and a chance to experience the product at first hand.
Once you have undertaken the course, you will then become a registered installer who will be able to purchase the product at preferential registered installer rates.
The initial training course dates are:
Wakefield – Monday 22nd, Tuesday 23rd February 2016
Cheltenham – Thursday 25th, Friday 26th February 2016
(Morning or Afternoon sessions available)
To apply please contact Plasterers One Stop Shop to confirm your preferred training centre and provide a £50 deposit to confirm your booking. Please confirm before Friday 12th February 2016
Should you want to discuss the product or the training in more detail, please do not hesitate to contact us or Plasterers One Stop Shop