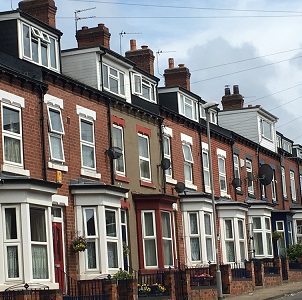 The Revolutionary Alternative to Conventional Insulation for Social Housing
1mm coating for internal walls and ceilings
reduces heating costs by up to 35%
helps address condensation and mould problems 
half the installed cost of traditional IWI / EWI
ideal for properties where CWI has been removed
Improve thermal performance of hard-to-treat properties.
Do you have properties that - 
have solid construction walls, or are considered hard-to-treat properties?... where EWI / IWI is simply not practical, not acceptable, or is too expensive?
have dormer windows or flat roofs?... thin structures with limited void space
have curved or angled ceilings?... top floor ceilings that cannot be easily insulated from above?
suffer thermal bridging problems? … cold spots which when combined with high internal humidity, leads to mould growth?
require cavity wall insulation to be removed?... how do you improve the thermal performance of a property once CWI has been removed?
How can AeroTherm help? 
AeroTherm provides a proven, tested, practical and cost effective insulation solution for private and social landlords.
Based on the latest reflective technology, AeroTherm requires only a 1mm thin coating to provide significant energy savings, which are comparative to conventional IWI or EWI systems.  It is applied directly onto the internal surface of existing walls and ceilings in a similar process to plastering. The installation causes minimal disruption and leaves a surface that's smooth and ready to paint or wallpaper.
The creation of warm walls and more balanced room temperatures, allows thermal comfort to be achieved by the occupants at lower heating thermostat settings and can save up to 35% in heating costs, reduces cold spots within a room and eliminates the conditions for condensation and subsequent mould growth to develop.
Compensation claims for health problems caused by inadequate insulation are rising fast.
Cost savings…
AeroTherm is the most cost effective insulation solution for hard to treat properties on the market today.  Expect to pay half the installed cost of IWI or EWI.
Minimise legal disrepair claims from hard-to-treat properties by installing AeroTherm today
Improve your tenant's ability to pay the rent, by lowering energy bills
Complete installations in 2-3 days without the need to rehouse your tenants
AeroTherm incorporates 3M hollow glass microspheres and aerogel into a thermo-active layer that rapidly adjusts and balances with the room temperature. Radiant energy is absorbed and reflected by the ultra-thin coating to keep the heat in the room and not let it transfer into the walls and subsequently, out of the building.
Metropolitan Housing Association
"You can definitely feel the thermal improvement in the house"

AeroTherm was installed for Metropolitan Homes, within two of their Derbyshire properties that were suffering with damp and mould growth.  This provided a cost effective solution for Metropolitan Homes – to address poor insulation in difficult to treat solid wall properties.  Both tenants commented on the improved living environment created within the homes and the two installations went on to win an Energy Efficiency Award at the East Midlands area awards presentation in April 2016. 
Shettleston Housing Association
"The tenants have all immediately reported much warmer flats"

In March 2016, AeroTherm was installed across four neighbouring sandstone tenement flats in Glasgow for Shettleston Housing Association (SHA).  The installation caused minimal disruption to the tenants and SHA commented on the high quality of the surface finish.  The tenants have all reported major improvements in the thermal comfort within their flats, with no loss of internal space.  One in particular has contacted us to say that he keeps having to turn his heating off!
Who do I contact to understand more?
Call our office - 01924 848020
Or email - This email address is being protected from spambots. You need JavaScript enabled to view it.