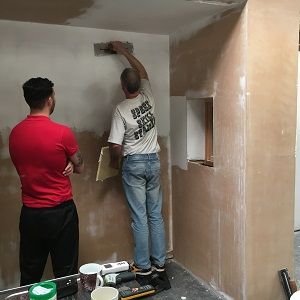 AeroTherm Installer Training Update
AeroTherm is a new ultra-thin wall insulation product, which is applied like a plaster to provide a heat reflective coating to internal walls and ceilings. 
As heat reflective coatings are a relatively new concept to the UK insulation market, it is important to fully understand how AeroTherm works and be able to explain the benefits its provides to potential customers. It is therefore recommended that plasterers attend AeroTherm installer training courses to gain a full product knowledge and ensure that it is correctly applied with suitable equipment.
Case Study videos showing the application can be found here
Recently trained installers secure first projects.
To help create a network of installers around the UK & Ireland, training courses are also being organised by Plasterers One Stop Shop, an official AeroTherm Dealer and stockist. The first set of courses they provided recently received significant interest and were well received by the attendees. Several of them have already gone on to secure their first installation.
Course details
The course duration will be between 3-4 hours and consist of a product presentation followed by a practical demonstration and a chance to experience applying the product at first hand.The course includes an essential tool kit, which is necessary to successfully complete an installation.
Once you have undertaken the course, you will then become a registered installer who will be able to purchase the product at preferential registered installer rates.
We have a training centre at our offices nr Wakefield and have released the following training dates:
• Thursday 17th March
• Friday 18th March
Please contact us for further information