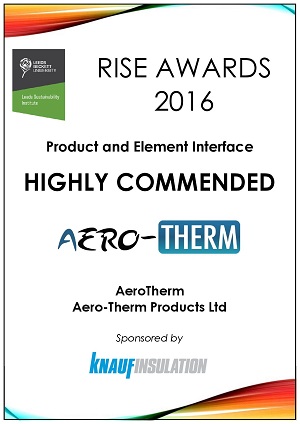 RISE AWARDS 2016
The RISE Awards stand for Research, Innovation, Sustainability and Enterprise. To showcase and celebrate the most innovative and forward thinking research and initiatives in the built environment, the Leeds Sustainability Institute at Leeds Beckett University host a highly competitive annual competition to highlight some of the most exciting opportunities currently available. With a broad spectrum of products and projects represented, the awards seek to recognise and reward industry leaders in energy efficiency, new technologies, products and processes, research, design, behavioural change and more!
As AeroTherm incorporates the latest advances in the secondary reflectance of heat energy, it presents new opportunities in how to insulate a building.This was noted by the judges who recognised how the ultra-thin coating is able to effectively absorb and reflect certain key bands of radiant energy to rapidly balance the heat distribution within the room. Allowing the thermo-reactive nature of the product to, in effect, become part of the heating system and constantly work to efficiently maintain and distribute the available heat.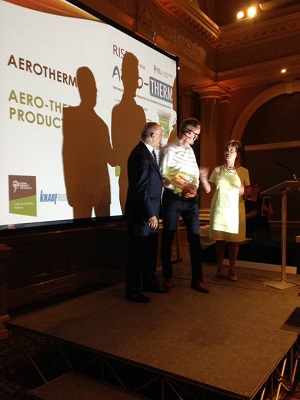 AeroTherm was included in the 'Product and Element Interface' category, which focused on any product or design within the building fabric. ie - walls, floor, roof, windows or doors. With up to 10 nominations, it was a highly contested award with some excellent submissions. We were therefore very pleased to be given special consideration and provided with a 'highly recommended' award. The judging panel stating that they 'were very impressed with the product and felt it offered a great opportunity to improve the thermal performance in existing homes.
In the photo on the left is Craig Clement, MD of Aero-Therm Products collecting the award from Gaynor Barnes from ITV Yorkshire who hosted the award ceremony.
Please click on the following link to see our Rise Awards 2016 poster